The drive for green innovation tomorrow
As a leading company in the automotive engineering industry for over 40 years, ComfortDelGro Engineering Pte Ltd (CDGE), a wholly-owned subsidiary of ComfortDelGro Corporation Limited, has been providing a suite of automotive services for taxis, as well as private and commercial vehicles. It is also the exclusive distributor for Volvo Bus & Parts, Davanti Tyres for passenger cars and Duraturn Tyres for commercial vehicles.
Recognising the role it plays in supporting the Singapore Green Plan 2030, CDGE had, in 2021, formed a joint venture (JV) company with ENGIE South East Asia – ComfortDelGro ENGIE Pte Ltd – which made its foray into the electric vehicle (EV) charging field by winning the first tender to install over 500 charging points in Singapore.
It formed a solar JV with ENGIE – ComfortDelGro ENGIE Solar Pte Ltd – in 2022 to provide renewable energy services using solar power to support the Group's electrification journey.
CDGE has also been appointed the exclusive distributor of commerical electric vehicles in Singapore that is manufacture by ChangAn KuaYue(KYC), one of the "Big Four" automotive manufacturer in China.
CDGE recognises that at the centre of its business is its "heartware" – its automotive technicians – and the importance of ensuring that they are given the knowledge and training to do their jobs well. For this purpose, CDGE set up the CDGE Academy in September 2021 and is collaborating with TÜV SÜD PSB to upskill its technicians as well as those in the industry.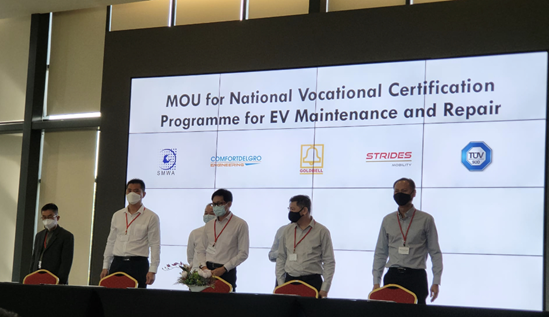 Signing of MoU with LTA
CDGE partnered with LTA to develop National Vocational Certification programme for EV maintenance and repair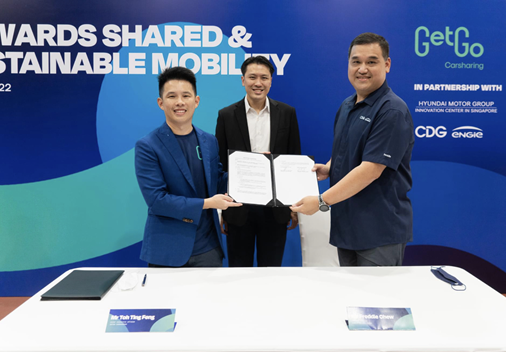 Signing of MoU with GetGo Car Sharing
CDG ENGIE collaborated with GetGo Car Sharing to deploy EV Charge Points to support their EV rental vehicles.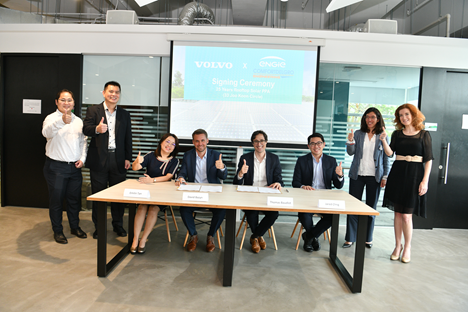 Signing of Solar PPA with Volvo
2nd solar project - CDG ENGIE signed a 25-year Power Purchase Agreement with Volvo Group Singapore.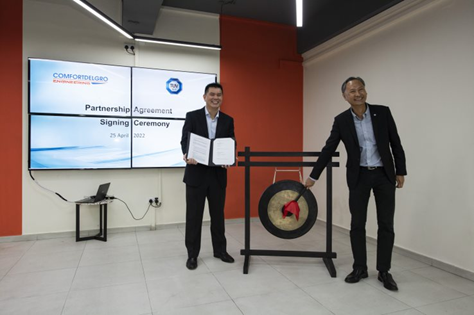 Signing of Partnership Agreement with TUV SUD
A partnership agreement jointly signed with TUV SUD PSB to develop a training programme to upskill automotive technicians on the safe handling of high voltage systems in electric and hybrid vehicles.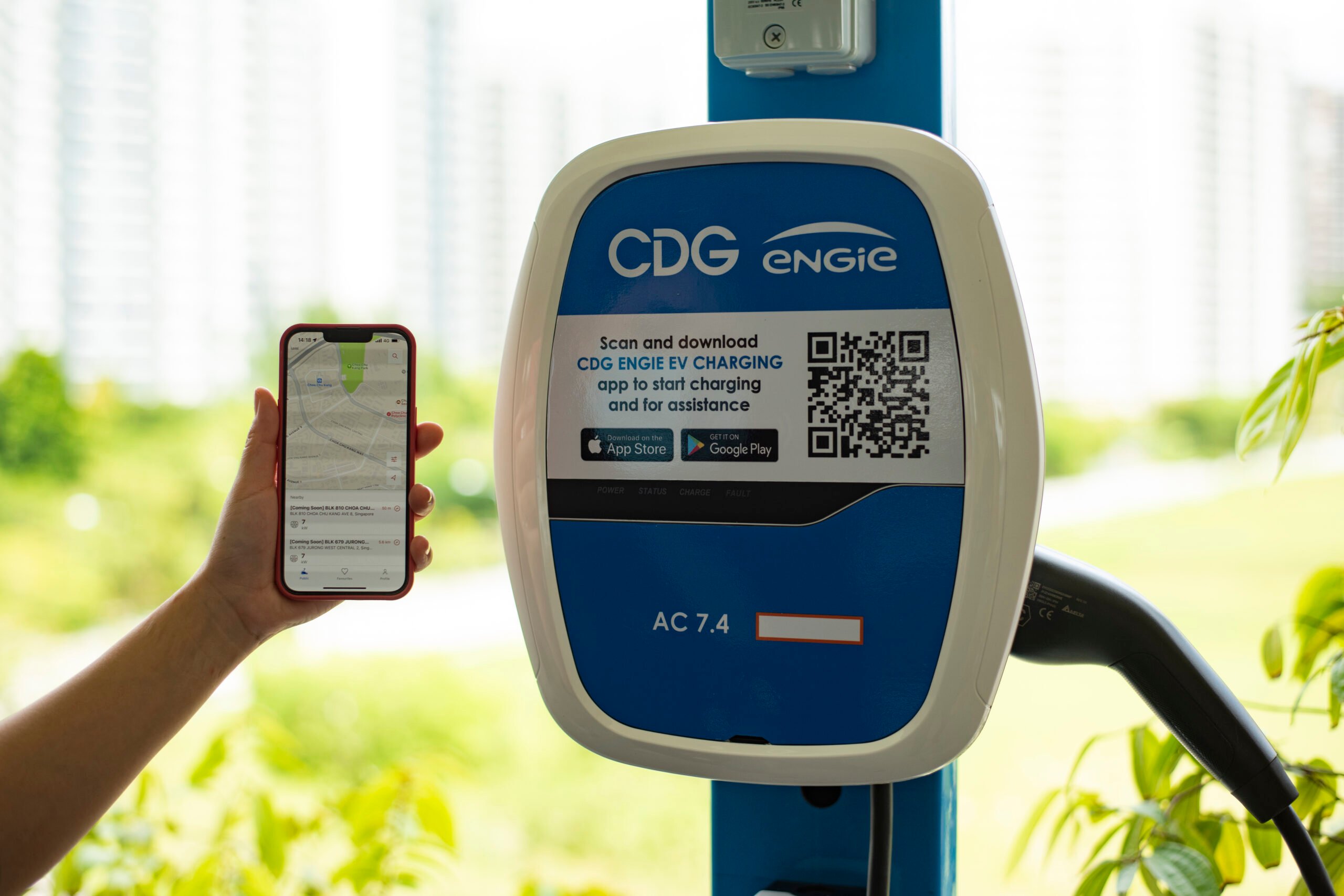 Launch of CDG ENGIE Charging App
CDG ENGIE Charging App was launched to assist the EV owners to locate the EV Charge Points conveniently islandwide.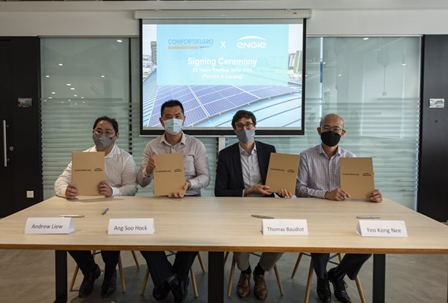 Signing of Solar PPA with CDGE
1st solar project - CDG ENGIE signed Power Purchase Agreement with CDGE on Loyang and Pandan workshop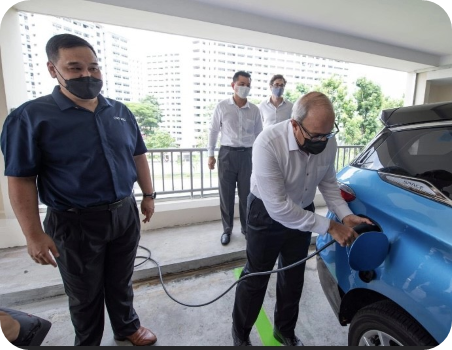 1st EV Charge point at HDB
CDG ENGIE installed the first EV Charge Point in Jurong in a ceremony witnessed by Minister of Transport, Mr S. Iswaran.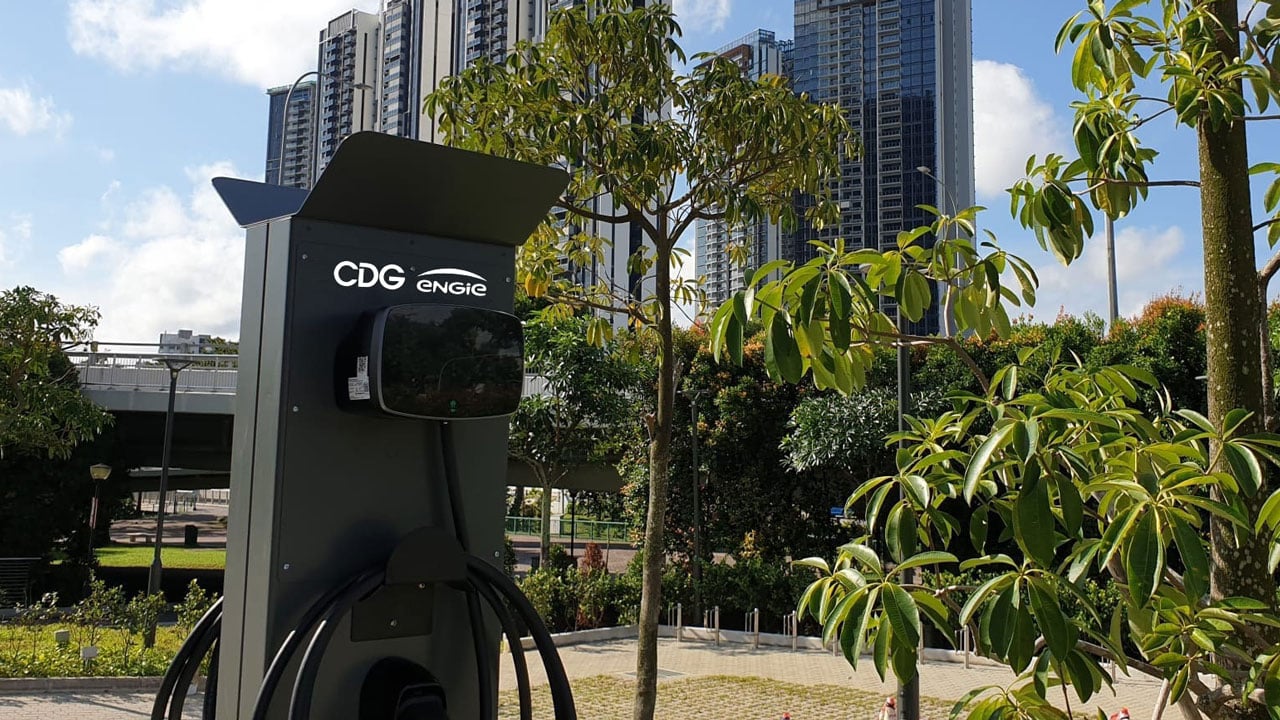 1st Commercial EV Charge point at URA & TUV SUD
CDG ENGIE installed it's first commercial EV Charge Points at URA and TUV SUD office.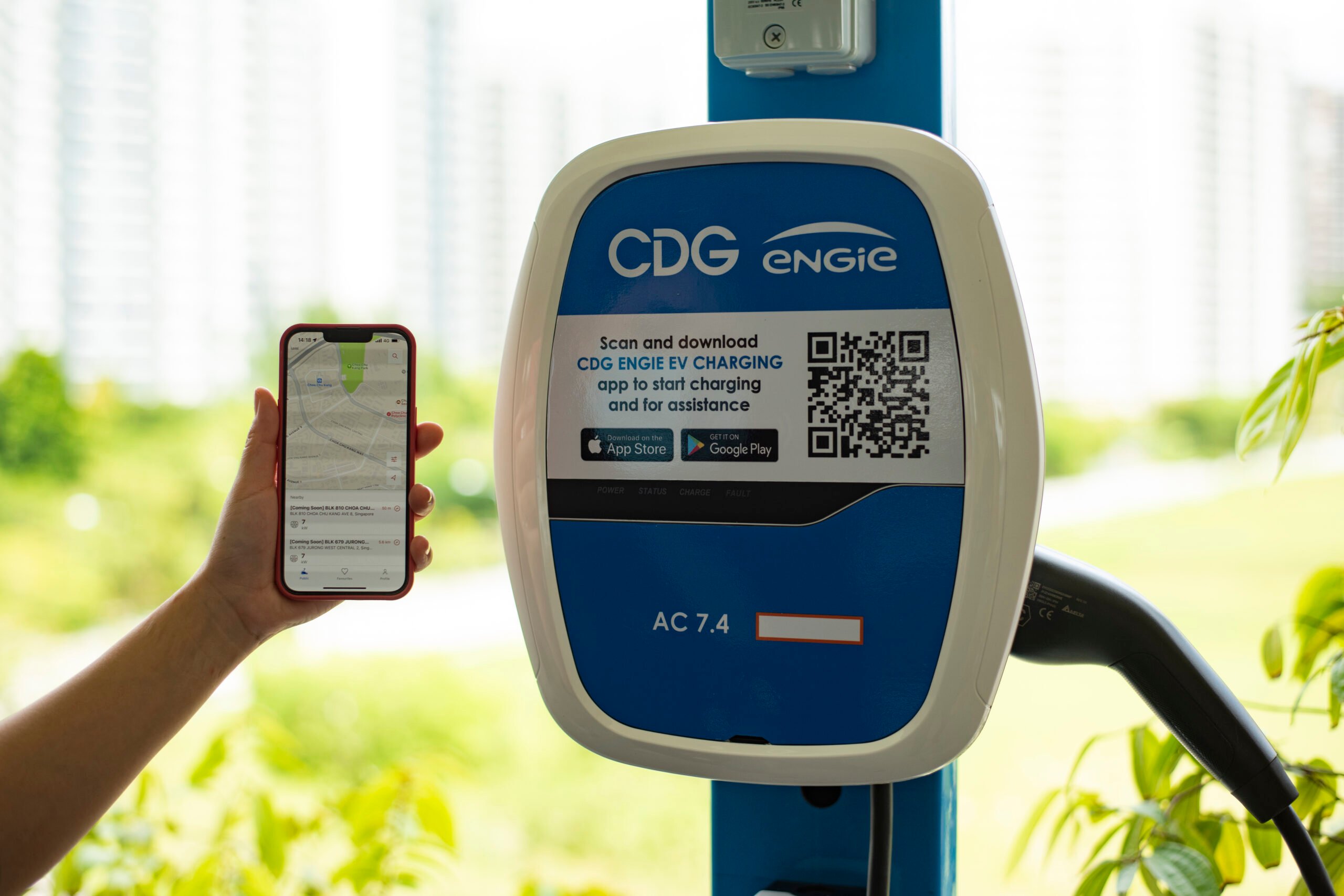 Venture into EV Charging
CDG ENGIE was formed to combine expertise and technology from both companies in a venture towards EV Charging.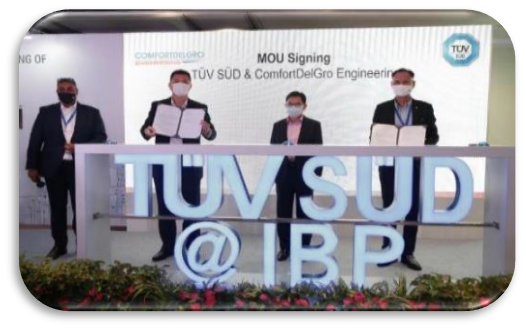 EV Training Programmes
A partnership with TUV SUD was forged to develop training programmes and upskill our technicians on the safe handling of High Voltage Vehicles.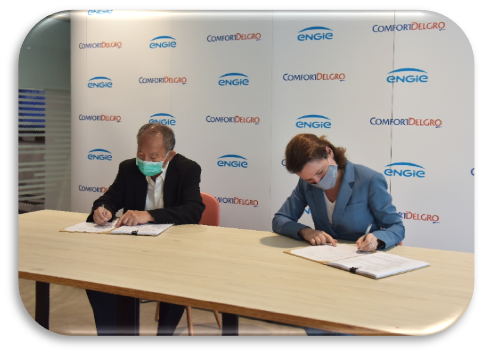 Venture into Solar & Renewable Energy
ComfortDelGro entered into a second joint venture with ENGIE, this time to offer solar and renewable energy solutions.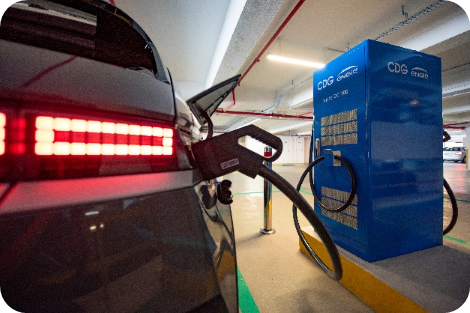 Won URA's 1st EV Charging tender
We were awarded URA's first tender to install 479 EV charge points in the Central, East and West regions of Singapore.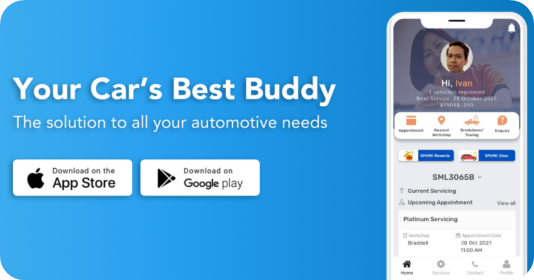 CDGE App & SWorDs
Singapore's first end-to-end car repair mobile application was launched, making car mainenance simpler and moe convenient or drivers. Complementing the CDGE App is its Smart Workshop Digital System (SWorDs) that automated the workshop process to make work processess more efficient and our people more productive.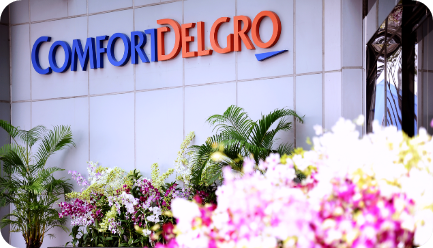 Comfort & DelGro merged
The group was formed through the merger of two successful companies - Comfort Group and DelGro Corporation on 29 March.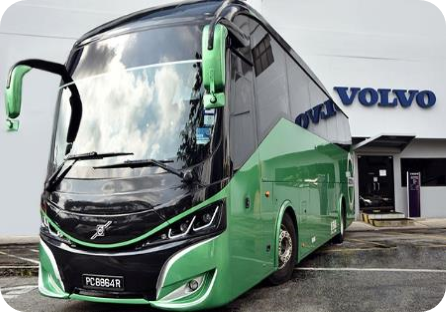 Volvo Bus Parts & Sales
The company was appointed as an exclusive Volvo Bus parts and sales distributor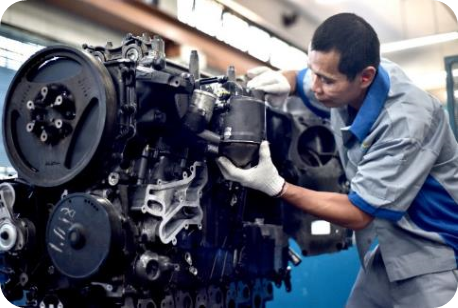 Component Reconditioning
As a testament to our commitment towards sustainability and cost efficiency, we ventured into component reconditioning and give road-worthy vehicle parts a second life.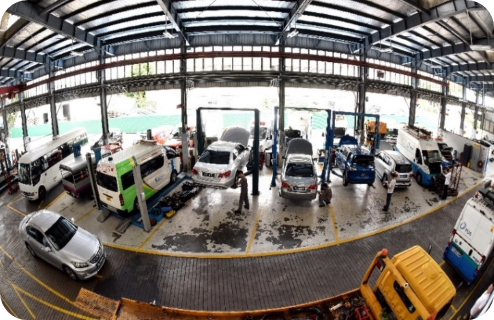 Renamed Vehicle Maintenance to SPARK Car Care, Bus Maintenance & Tyre Sales
Business was expanded into comprehensive automotive solutions including servicing and accident reparation for private and commercial vehicles. This was boosted by our appointment as an authorised accident repair centre to 14 insurance companies.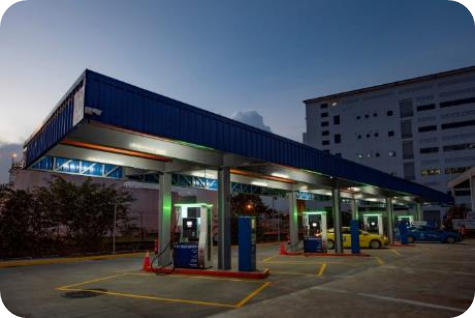 Fuel Sales
The organisation was the first to enter fuel retailing, with the aim of selling fuel at discounted rates exclusively to its cabbies. Presently, 7 cashless fuel kiosks remain in operation islandwide.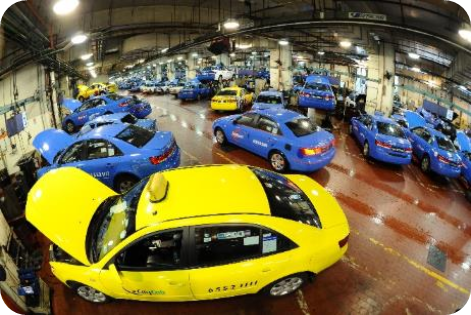 Taxi Maintenance
First established in 1975 under the name General Automotive Services, the company was primarily set up to maintain Comfort Taxis. Today, the group manages a fleet of over 10,000 taxis.
Lorem ipsum dolor sit amet, consetetur sadipscing elitr, sed diam nonumy eirmod tempor invidunt ut labore et dolore magna aliquyam erat, sed diam voluptua. At vero eos et accusam et justo duo dolores et ea rebum. Stet clita kasd
Lorem ipsum dolor sit amet, consetetur sadipscing elitr
Lorem ipsum dolor sit amet, consetetur sadipscing elitr
Lorem ipsum dolor sit amet, consetetur sadipscing elitr
Techinicians trained & certified
Lorem ipsum dolor sit amet, consetetur sadipscing elitr
Committed to creating long-term shared value for all our stakeholders through sustainable growth