CDG ENGIE installed the first EV Charge Point in Jurong in a ceremony witnessed by Minister of Transport, Mr S. Iswaran.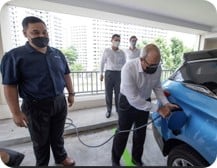 We are happy to be part of the National EV Campaign Launch that took place at Jurong West today.
Minister of Transport, Mr S Iswaran unveiled the National EV logo and experienced for himself the charging of a resident's EV with our AC charger at Blk 679 Jurong West Central 1 car park.
This is but one of hundreds of EV chargers that CDG ENGIE will be installing in Singapore islandwide. Look out for more of our charging points in time to come!
Follow us and download our CDG ENGIE EV Charging App at
https://bit.ly/33XiGf2
so you know where our chargers are when you need them!